0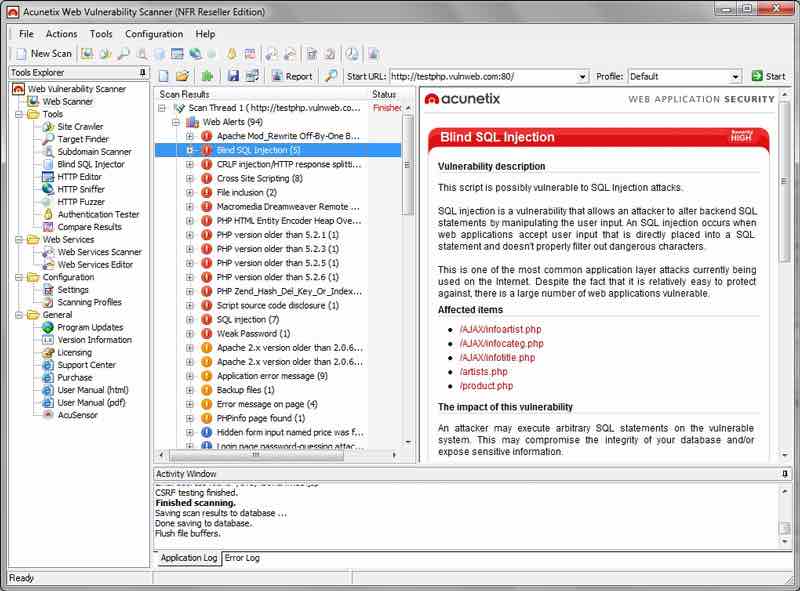 What is Acunetix WVS?

Acunetix is a web vulnerability scanner that automatically checks web applications for vulnerabilities such as cross site scripting, SQL injections, weak password strength on authentication pages and arbitrary file creation. It has a great GUI that has the ability to create compliance reports, security audits and tools for advance manual web app testing.

Is Acunetix WVS Free?
It is a commercial program but its fast and cheap.

Does Acunetix WVS Work on all Operating Systems?
It currently works on Windows operating systems.

What are the Typical Uses for Acunetix WVS?
Acunetix WVS is used to discover if your website is secure by crawling and analyzing your web applications to find if there are SQL injections. By doing this, its detailed report can identify where web applications need to be fix.
Acunetix is a web vulnerability scanner (WVS) that scans and finds out the flaws in a website that could prove fatal. This multi-threaded tool crawls a website and finds out malicious Cross-site Scripting, SQL injection, and other vulnerabilities. This fast and easy to use tool scans WordPress websites from more than 1200 vulnerabilities in WordPress.
[b]   Acunetix comes with a Login Sequence Recorder that allows one to access the password protected areas of websites. The new AcuSensor technology used in this tool allows you to reduce the false positive rate. Such features have made Acunetix WVS a preferred hacking tools that you need to check out in 2017.[/b]